Our stock is always changing so if you see a clock you like please call as it may be Sold.This is a taste of what we have there are other Mantel clocks not pictured.Thank you for taking the time to view our site.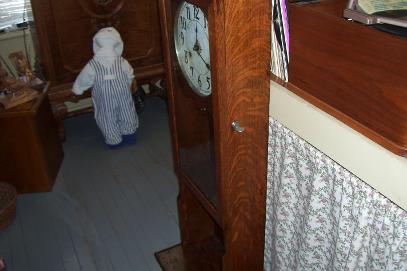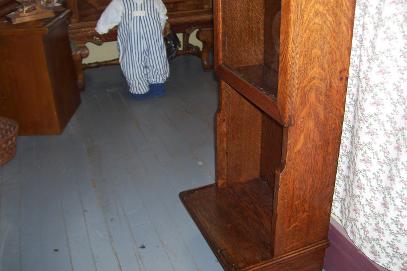 Turn of The Century Factory Time Clock Converted Many years ago For Home Use Very rare Piece Quarter Cut Oak.All Restored and in Fine Working Order $1500.00.Delivery could be made and set up in your home For a Fee.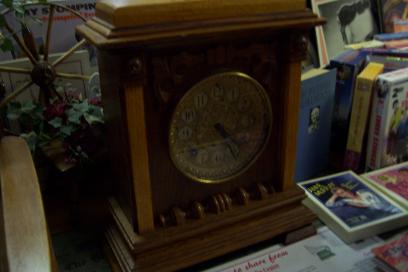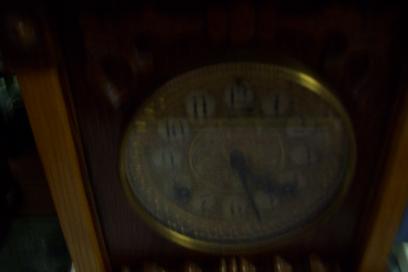 This is the only turn of the 19th century carriage clock we have at present.It is in great working order serviced by our shop $425.00 + HST.This piece should not be shipped and if so customer would take all the risk.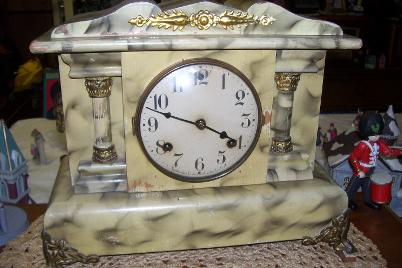 This mantel clock was built to look like the expensive marble clock but it is wood for the Folks with less money but did not sell well so is of the rare type has been serviced by our shop and works well built around the turn of the 19th century.Made by The Waterbury Clock Company New York USA selling for $475.00 +HST.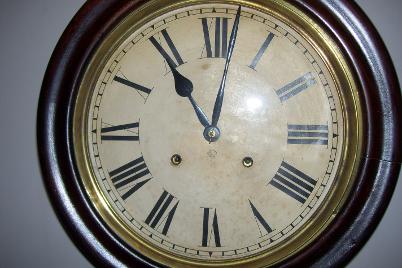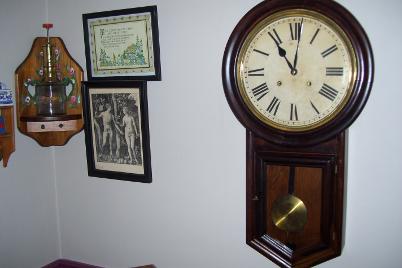 This is a Turn of the Century clock made by The Arsonia Clock Company USA strikes on the hour and half hour would have been found in a Fire Hall or Public Office in its Day has had a total rebuild with many hours of restoration priced to sell $1000.00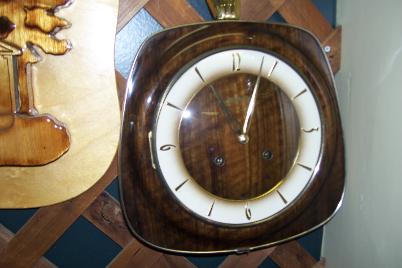 This is a 1950s kitchen wind up chime clock Westministor chimes on the hour and 1/2 hour priced to sell at $250.00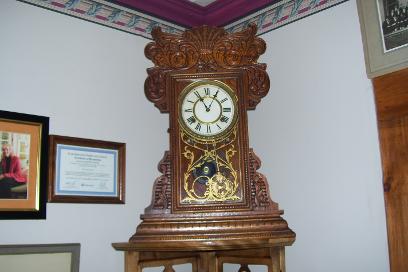 The above Ginger Bread 1800s Clock was purchased from a Dear Friend years ago.Is all original cabinet and works serviced by our shop.In fine working order strikes on the hour and 1/2 hour the clock has new bushings and should give many years of service it is Solid Oak $700.00.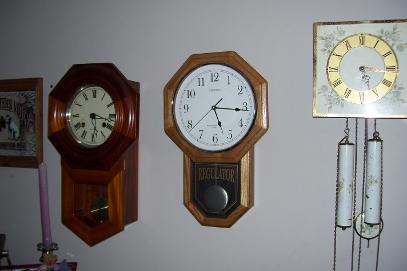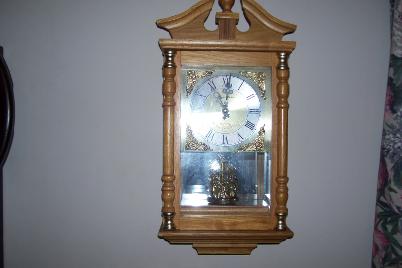 The three wooden wall clocks above are all Quartz battery operated the light oak Regulater clock chimes on the hour and 1/2 hour. The darker one does not chime.The light oak one has dancers at the bottom that turn all the time chimes on the hour and 1/2 hour $150.00 your Choice.The weight clock is made in Germany and strikes on the 1/2 hour and the hour in fine working order $145.00 .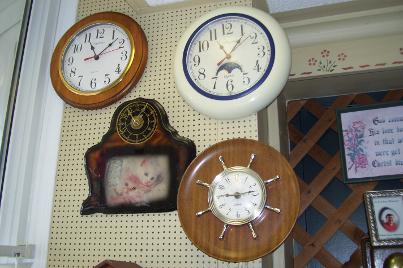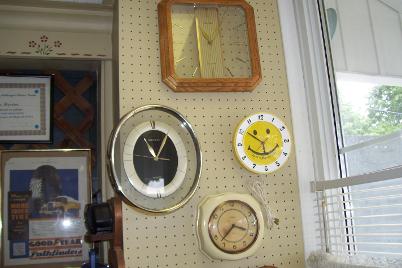 We always have a good choice of Battery Quartz & Electric Wall Clocks. For Kitchen Bathroom Ect. From $25.00 - $200.00.The Battery Clock with the Kittens And the Electric Happy Face Clock are both sold.
If you see a clock you would like to purchase but do not drive.We will deliver and set up in your home for a fee in a 200 klm range.The amount must be deposited in our bank account before delivery.Thank you for viewing are fine display of clocks of the past and future.
We are a very busy shop sometimes with 6 - 8 months work ahead of us.At present I am in need of a Car Clock Repairman to put Quartz works in Auto clocks that will run off the 12 volt & 6 volt battery system in Vintage Autos.Please contact Gary at 519-357-4304 or email us at oldetymeradio@tnt21.com or snail mail 9 Queen Street Box# 1 Belgrave Ontario N0G1E0.Thank you for taking the time to view our rare website.
Wow 35 Years And Still Going Strong 1988 - 2023 Thank You Jesus For Our Success And Health to do what we do.
We always have a nice choice of cuckoo clocks some very rare and collectible ranging in price from $250.00 - $1000.00 all are Made in The Black Forest in Germany and have been serviced by our shop.Some in Photos may be sold.They are very Popular.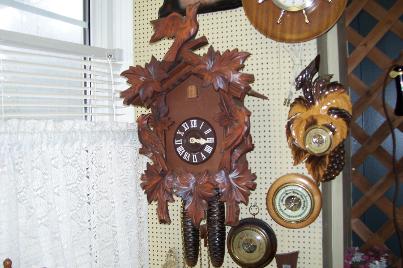 This is the only eight day cuckoo we have in stock at present.Priced at $700.00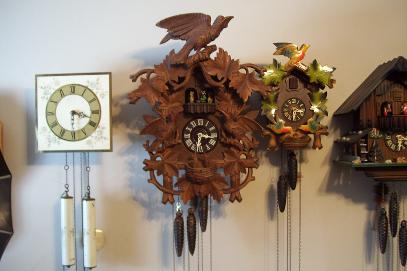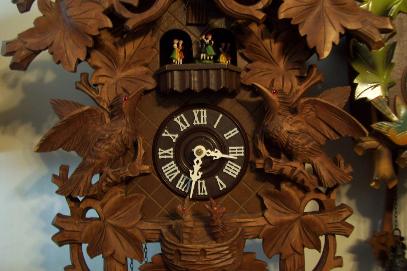 This is the rarest and the largest and most expensive of all the Cuckoos we have in stock at present very ornate with dancers Notice the little birds looking to be fed. All serviced and ready for your home $1000.00 + HST.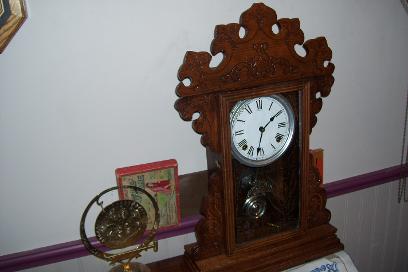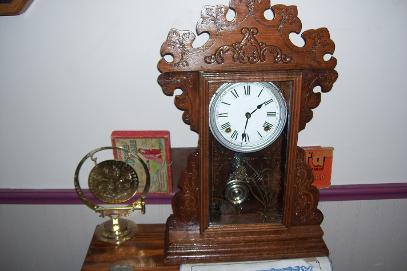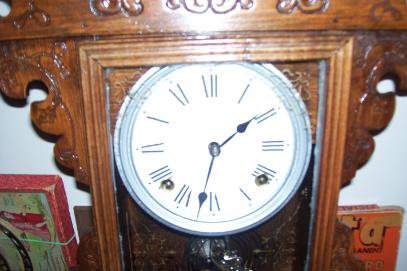 The above clock is a Ginger Bread clock around 1890-1900 By The New Haven Clock Company Conn. USA.Has had a Total Restoration both inside and outside.It is Cherry Wood very rare $700.000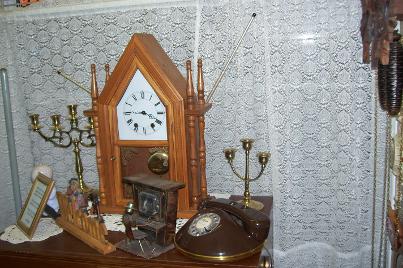 This is an older reproduction Steeple clock with a nice oak cabinet has a real good Battery operated Quartz works.Has West Minister chimes on hour only and nice reproduction $250.00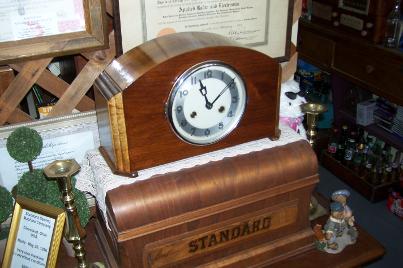 The clock pictured here is a 1948 chime clock that strikes on the half hour and hour that came into our shop with the entire works in pieces in a box.The cabinet had been restored so it is one of our little miracles priced to sell at $375.00.It is sitting on a rare Standard Treddlle Sewing machine 1800s with all attachments cabinet restored selling at a fair price of $600.00 We also have a Singer same as above not restored for $300.00 it was converted years ago to electric but would run both ways only two in stock at present.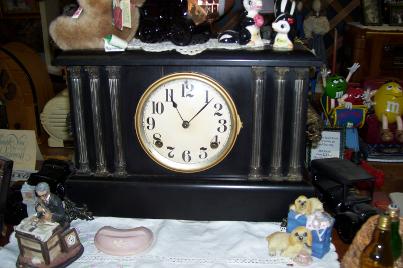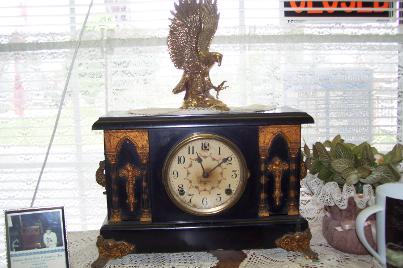 The two clocks above are early 1900 Session Clock Company USA clocks strike on the hour and half hour all serviced and ready for your home or collection your choice $475.00 each + HST. The Eagle sitting on the clock is solid Brass and has been polished and a coat of metal laqeur put on to preserve and never have to polish again rare piece selling for $200.00 +HST.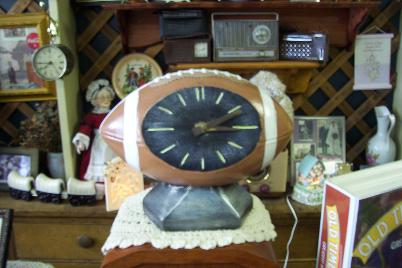 This rare Battery Quartz Foot Ball clock is a ceramic clock with lots of detail very unique priced to sell $75.00.We also have a number of other unique Quartz clocks for sale.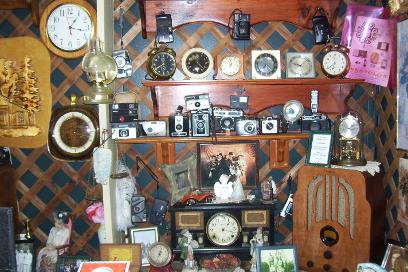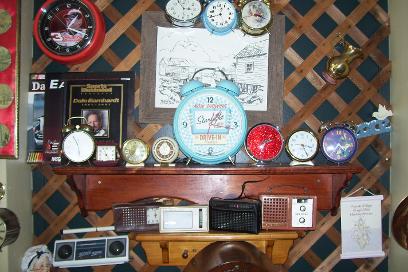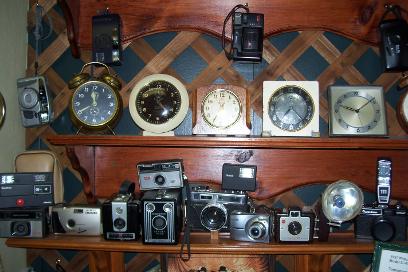 There is a real choice of wind up alarm clocks & cameras from 1912 up.Also some alarm clocks from 1800s needing restoration selling as is.There is also a Few Reproduction wid up Alarm Clocks.Priced from $25.00 --- $200.00 depending how rare.